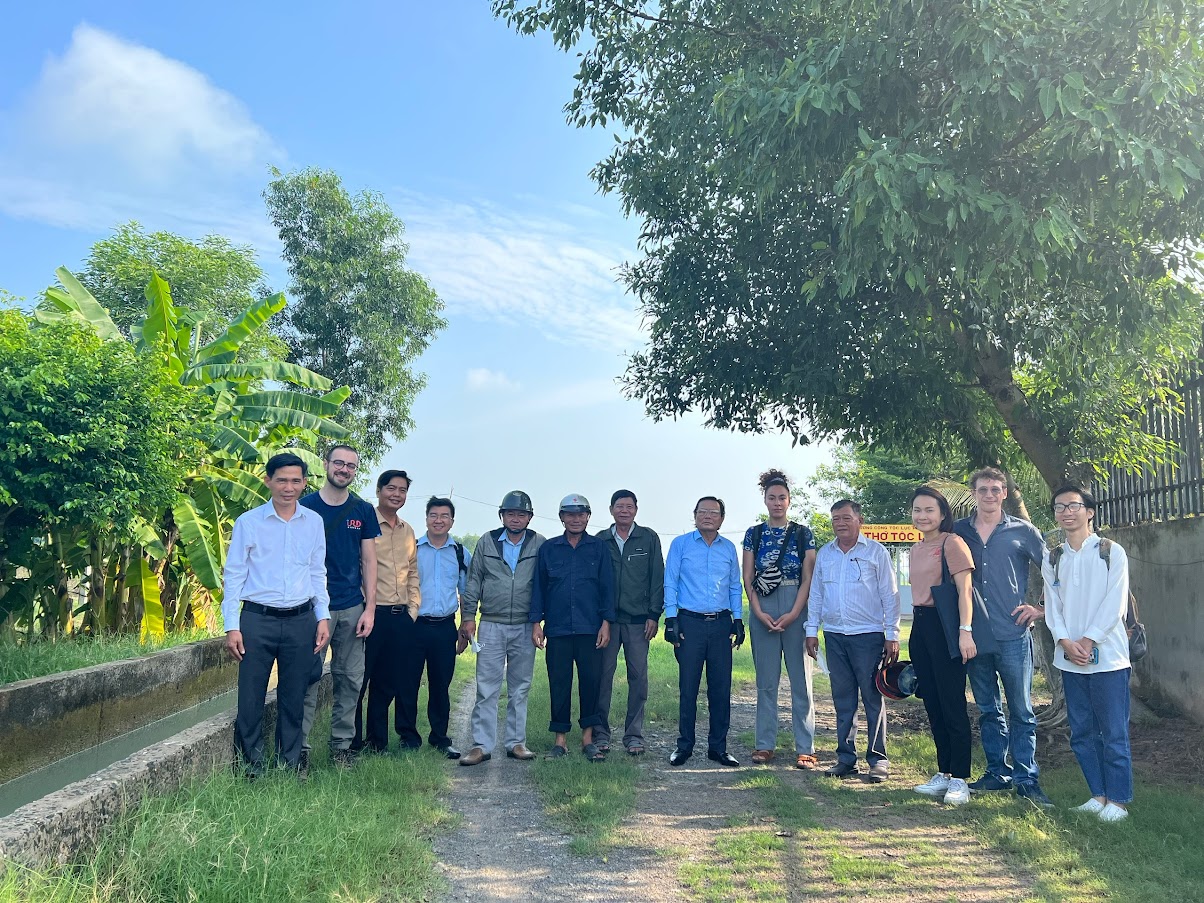 Through information collected from the first field trip in Duc Hoa, Long An, the ACROSS group of researchers have come back to this region with a focus now on several communes in Duc Hoa aiming at understanding better the point of view of end-users of the canals in Phuoc Hoa project via semi-structured interviews with local inhabitants.
Monday, 15th May 2023 – Arrival and meeting with CMEI Long An
All participants joined together in Hochiminh City before heading to Duc Hoa, Long An for a meeting with the Center for Management & Exploitation of Irrigation Works (CMEI) in the afternoon.
Through the meeting, CMEI has provided more useful information to help the ACROSS team to understand better the local situation, the design and location of the main canals which go through the communes that the group would visit in the following days. Representatives of these communes were also present at the meeting which allowed discussions for the organisation of the following visits. In general, the team is divided into 3 groups of interviewers and will conduct interviews in one commune/day with expectedly 5 interviews/group/day. CMEI also assigned two of their officials to accompany the team for further support.
Tuesday, 16th May 2023 – Visiting Đức Lập Thượng Commune
The team has met with Mr. Tho from the economic bureau of the People's Committee of Duc Lap Thuong who helped to arrange interviews with local farmers.
Wednesday, 17th May 2023 – Visiting Mỹ Hạnh Bắc Commune
Mr. Châu – Vice President of the People's Committee has given the ACROSS team a warm welcome and along with other local officials, accompanied us to each household for conducting the interviews.
Thursday, 18th May 2023 – Visiting Đức Hòa Thượng Commune
The group has come to work with the vice president of the People's Committee and then head to work with representatives of the hamlet where interviews were taken place with the local farmers.
Friday, 19th May 2023 – Visiting Hòa Khánh Đông Commune
The group has visited a pumping station and see how water was led through the canals of different levels to each field. Interviews with several households were also taken place from which the farmers shared interesting points of view on their need of having a quaternary canals network.
With support from the local authorities, the field trip of ACROSS's team has been smoothly and efficiently implemented with lots of useful data collected. From this, we expect to keep having, in the near future, other field visits to explore even more the local state of the system, the needs of the users as well as different stakeholders involved in the operation and management of the Phuoc Hoa project.