ACROSS team had the honor to welcome to their premises on 14th of July, 2023 – also the French Independence Day – the delegation from IRD headquarters. This is part of their one-week program in Vietnam starting from the 11th of July which marks the 50th anniversary of diplomatic cooperation between France and Vietnam and aims to strengthen scientific collaboration in this priority region for the IRD.
The delegation led by Mrs. Valérie Verdier – President – General Director of IRD – was warmly welcomed by Dr. Trinh Minh Thu – Rector of TLU as well as TLU's Rector Board and representatives.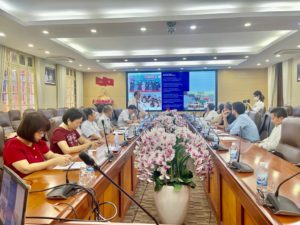 IRD delegation working with TLU's Rector's Board and representatives
The two parties then headed to ACROSS Laboratory for a visit.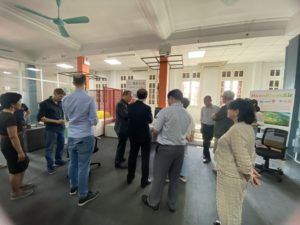 Alexis Drogoul – Co-Director of ACROSS is introducing Hoan Kiem Air model to the visitors. This is one of the models being displayed at ACROSS.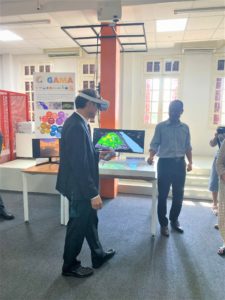 Prof. Trinh Minh Thu is experiencing the VR headset used for Hoan Kiem Air Model
Mrs. Valérie Verdier has then expressed her gratitude on the marvelous ambiance, the warm welcome and the incredible demonstrations, nice discussions and presentations of the projects implemented within ACROSS. The delegation was truly amazed by what we have been showing and for the quality of ACROSS's work and engagement in sustainability science.